VARP home page
Virginia Association of Railway Patrons
Modern Transportation for the Virginias
VARP's 2007 Quantico Meeting Focuses on the Washington-Richmond Line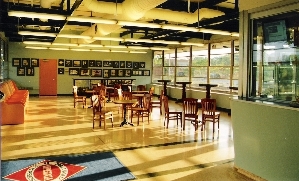 The Virginia Association of Railway Patrons held its annual meeting on March 3 in the renovated station at Quantico, Virginia. Steve Junkersfeld of the Whistle Stop Café in the station provided hospitality.
Presentations
Dave Johnson, Assistant Director of the National Association of Railroad Passengers
Dave gave us a "Wheels of Progress" presentation on rail expansion around the country, such as new commuter rail services in Nashville, TN, and Albuquerque, NM.
He also gave us a legislative update. Since November's elections, there is stronger support for Amtrak funding in Congress.

Kevin Page, Director of Rail, Virginia Dept. of Rail & Public Transportation
Kevin gave us news about rail developments in Virginia and the District of Columbia, particularly a rail improvement study, which examined placing a third track along the CSX mainline from Washington, DC, to Richmond and even considered electrification. Work under way will complete a third track from AF interlocking in Alexandria (where the Norfolk Southern meets CSX) to Virginia Ave. in Washington, where the CSX freight line splits off. The only double-track segment remaining in those approximately 8 miles will be the Potomac River bridge. The next segment to get a third track would be from AF to Franconia-Springfield, about 6 miles. The additional mile to Ravensworth planned for this segment would be costly because of engineering complications. $20 million or $25 million in the Rail Enhancement Fund could pay for this project if it is in the Commonwealth's final budget.
There is also some funding for spot capital improvements; the Trans-Dominion Express study identifies capital and subsidy requirements.

Jay Westbrook, CSX Assistant Vice President for Public-Private Partnerships
Jay said that the CSX mainline between Washington and Richmond is at capacity. When something goes wrong, it takes hours or even days to recover. For example, night trackwork, besides affecting safety, pushes more freight trains into the daylight hours. And there are serious implications for installing welded rail when the weather is not hot—that is, late at night.
However, CSX has reduced freight interference with passenger trains thanks to "intensified tactical focus." The railroad also has intensified its maintenance presence, especially during rush hour.
With the Commonwealth of Virginia, CSX is working on several capital projects to expand capacity between Washington and Richmond. The AF, Arkendale, and Elmont interlockings are complete. The second Quantico bridge (now finished) was near completion at the time Jay spoke. Work is under way on the third track between Virginia Ave. in Washington and the Potomac River, about a mile. A third track will be constructed from RO interlocking on the Virginia side of the Potomac River bridge to SRO interlocking at Crystal City, with signal improvements made. The whole stretch from RO to Slater's Lane in north Alexandria is being redesigned. This project might be finished next year. A third track from Fredericksburg to Hamilton's crossing (4 miles) also might be done next year.
Finally there is the third track from AF to Franconia-Springfield. These projects expand capacity, sometimes in ways that are not obvious: for example, when the single-track Quantico bridge needed to have its track inspected, it would tie up the railroad.
Another project that will add capacity is VRE's plan to add platforms on track 3 at some of its stations, giving CSX dispatchers more operating flexibility.
Jay said that there are many hurdles to cross in public-private partnerships, but CSX has decided that it is worth it.
He also gave a detailed explanation of how heat restrictions (temporary speed limits) work. Heat restrictions protect the track from the dynamic forces of trains. When the daily high temperature is over 90° Fahrenheit or over 85 degrees with wide temperature swings, such as a 40-degree difference in temperature over 48 hours, the railroad will impose speed restrictions, generally 50 miles per hour for both passenger and freight trains. However, CSX is putting its track into first-class shape, he said, reducing the overall need for speed restrictions. He predicted fewer delays this summer.

Bob Stewart, Vice President–Southeast of the National Association of Railroad Passengers
Bob discussed some transportation topics in Florida that have implications for the rest of the country. For example, Amtrak is plagued by dispatching problems that cause delays, with trains frequently bypassing the Tampa stop to make up time. Also, Marathon, FL, pursued and got subsidized air service because it saw it as necessary to the local economy.
Dale Zehner, Chief Executive Officer, Virginia Railway Express
"You can't let us fail." That's the message Dale said he gave to CSX and Norfolk Southern. The railroads need the capacity that can be gained through public investment, but the money won't be there if VRE doesn't run on time. Politicians will give money to successful projects, he said, but railroad capital projects are 40-year investments, and politicians usually think in much shorter terms.
He also discussed VRE's acquisition of gallery cars and hopes for new locomotives. VRE required stainless-steel construction in its new passenger cars, and there was only one bidder, Nippon Sharyo, so gallery cars were the only choice. However, they have advantages: they hold more passengers than any other type of bilevel, and they are more energy efficient because the cars do not open directly from the car interior to the outside (as is the case with Bombardier cars, such as the Sounders VRE has leased).
VRE hopes to get state funding for new locomotives that will be compliant with Tier II environmental standards, have 3,000 horsepower (enough to pull ten cars), and have enough head-end power generation to provide electricity for ten cars.
Dale also discussed VRE expansion. The proposed Haymarket extension is projected to double ridership on the Manassas line. This extension, along with a third track between Featherstone and Arkendale on the Fredericksburg line, might be paid for out of the state's Rail Enhancement Fund. Charlottesville is interested in getting VRE service, but at 112 miles from Washington it is too far away to have much commuter ridership. Even Culpeper, which is also interested in getting VRE service, is a long commute, he said (68 miles).
Elections
The following members were unanimously elected to the board by a voice vote (the congressional districts in which they reside are noted in parentheses): Jim Bayley (VA-2), George Billmyer (VA-11), Allan Carpenter (VA-at-large), James Churchill (VA-8), Steve Dunham (VA-1), Bill Forster (VA-at-large), Neil Humphreys (VA-5), Richard Peacock (VA-10), Herbert Richwine (VA-7), and Michael Testerman (VA-3).
Steve Dunham was re-elected chairman of the board, and the board re-elected the following officers: Mike Testerman, president; Dick Peacock, secretary; Herbert Richwine, treasurer; Jim Churchill, executive vice president; and Allan Carpenter, assistant treasurer.