VARP home page
Virginia Association of Railway Patrons
Modern Transportation for the Virginias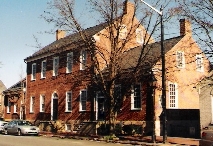 Photo courtesy of Steve Dunham, copyright 2009
VARP held its annual membership meeting March 7 at the Fredericksburg Area Museum and Cultural Center. VARP president Mike Testerman, who is also active in Rail Solution, described that organization's efforts to serve the Shenandoah Valley with better rail service instead of a widened I-81. Jay McArthur of Amtrak described some of Amtrak's achievements and challenges. Martin Wheeler of Charlotte, NC, described the construction and operation of that city's Lynx light rail system.

Presentations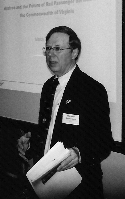 Michael Testerman, RAIL Solution

RAIL Solution is trying to get people "thinking beyond pavement," he said. The organization wants to get away from widening Interstate 81 from four to eight or more lanes and instead shift long-distance truck traffic to an improved Norfolk Southern line down the Shenandoah Valley. Freight would shift to rail if the average speed were at least 60 mph, requiring a 79 mph limit. To reach this capability, the Norfolk Southern line needs to be reengineered. Right now, it is "your grandfather's railroad," he said. It needs double track, grade separation to eliminate road crossings, and frequent crossovers between the tracks. "This is your grandchildren's railroad." Looking further ahead, electrification is a possibility. The Millennium Institute is calling for a non-oil transportation system. Electric railroads and renewable energy sources would be part of this. (Other parts of the solution are urban rail and bikeable, walkable cities.) Four mainlines in Virginia are on the Defense Department's list of railroads that should be considered for electrification to guarantee their operation in the event of an oil shortage. The United States built an electric urban rail network in the early 1900s, said Testerman, and we can do it again in the early 2000s.

Jay McArthur, Principal Officer, Amtrak's Strategic Partnerships, East
Amtrak has performance problems and a thin fleet, but it is making progress, said McArthur. It is one of the most efficiently run intercity rail systems in the world. It is fuel efficient: fuel is only 11% of Amtrak's expenses. To expand, Amtrak needs capital investment, but the cost of major railroad investment is low compared to what is consumed by the aging highway system. Congress is providing matching funds for corridor development; states must have statewide rail plans to qualify.
Beyond the corridors, "long-distance is vital to what we do," said McArthur. It needs to be maintained if not grown. The Southeast (served mainly by long-distance trains) is underserved by Amtrak, he said. Amtrak needs strong partners, service that makes economic sense, and corridors developed on routes in the long-distance network. One step is the extended Northeast Corridor trains to Lynchburg and Richmond to be funded this year by the Commonwealth of Virginia, which will also fund the repairs to some stored equipment needed to operate those trains. (One more trainset is needed to run the new train to Lynchburg as early as October.) Virginia is the 15th state to directly fund Amtrak service. McArthur noted that CSX and Norfolk Southern are doing a much better job of working with Amtrak, and North Carolina has spent $10 million for the environmental impact statement for high-speed rail to Raleigh. High-speed rail to Richmond is a possibility, he said. Amtrak president Joseph Boardman has said that we should look at electrification between Washington and Richmond.
Serving Richmond well might require an east-side bypass of the CSX Acca freight yard just north of Richmond. Running the new Richmond train to Main Street Station isn't feasible because of congestion and the lack of a turning facility near Main Street Station. The Commonwealth of Virginia intended the new Richmond train to go all the way to Newport News, but CSX said that more capacity is needed on that line before another passenger train can be added. CSX said it would be faster and easier to add storage capacity near the Staples Mill Road station north of Richmond. The new Richmond train could start as early as December, and the Virginia Department of Rail and Public Transportation hopes to extend it to Newport News within three years. McArthur also said that extending the Lynchburg train to Roanoke is critical for the viability of the service. He said that restoring passenger service to Roanoke might be possible within six years.
Two challenges Amtrak faces involve stations and equipment. The Americans With Disabilities Act is being interpreted as requiring equal access, rather than reasonable access, he said. For trains, this means high platforms—not logistically possible on railroads shared with freight (for one thing, platforms close enough to the track to have a minimal gap between the car floor and the platform leave too little clearance for many freight cars). Amtrak is interpreting the law as requiring platforms eight inches above the rail.
An aging fleet is another problem for Amtrak. The California cars can serve most new corridors but don't fit under the catenary on the Northeast Corridor, ruling them out for services in Virginia that run through north of Washington. Amtrak is looking at new single-level cars with doors for both high and low platforms. New Viewliner sleepers and diners are likely, maybe coaches too. The P42 diesels have a lot of life left, but the AEM7 electric engines are getting old. The HHP electrics have had problems but are fairly new.
With the capital funding to expand, Amtrak wants to expand existing services and add new ones, particularly fast, frequent service over relatively short distances (100 to 400 miles), anchored by major metropolitan areas, supported in part by state funding.
Martin Wheeler, light rail operator for the Charlotte, NC, Lynx system and president of the Carolina Association for Passenger Trains

Until the 1980s, rail advocacy in the Carolinas was mainly for intercity trains, said Wheeler. Then there began some movement for urban rail. Initially this idea got a chilly reception from the North Carolina transportation department. However, a 1988 mass transit task force and a consultant's report recommended urban rail for Charlotte, and a mayor's commuter task force looked at a line from Charlotte to Rock Hill. In the 1990s transit was tied to land use. Environmental and transit groups got support from the mayor and the business community, and in 1998 a half-cent sales tax passed 60% to 40%, providing $50 million per year for transit in Charlotte. It was recently extended by a vote of 70% to 30%.

First came the heritage trolley, supported by the business community, and this still operates, mostly on the same tracks as the light rail system.

The 9.6-mile Lynx light rail system was estimated in 2000 to cost $250 million. By the time it opened in 2007, the price had risen to $467 million, partly because expensive modifications were required, such as a quarter-mile viaduct to eliminate some grade crossings. However, it has sparked $1 billion to $2 billion in private development. Construction is evident around most of the stations.
Elections
The following members were unanimously reelected to the board: Jim Bayley (Virginia congressional district 2), Allan Carpenter (at large), James Churchill (district 8), Steve Dunham (district 1), Bill Forster (at large), Neil Humphreys (district 5), Richard Peacock (district 10), Herbert Richwine (district 7), and Michael Testerman (district 3).
Steve Dunham was reelected chairman; Mike Testerman, president; Jim Churchill, executive vice president; Dick Peacock, secretary; Herbert Richwine, treasurer; and Allan Carpenter, assistant treasurer.