VARP home page
Virginia Association of Railway Patrons
Modern Transportation for the Virginias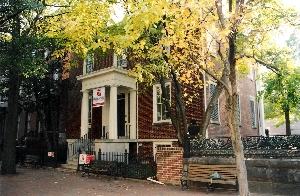 Photo courtesy of Steve Dunham, copyright 2007
VARP's 2010 meeting
The Virginia Association of Railway Patrons held its annual meeting on March 6 at the Valentine Richmond History Center.
---
Danny Plaugher, Executive Director of Virginians for High Speed Rail, spoke on high-speed rail developments in Virginia. Bringing the bottom up is the first step in getting high-speed rail in Virginia, said Plaugher—that is, raising the speed limit from 79 on the Norfolk Southern mainline (or 70 on the Washington-Richmond CSX line) to 90 miles per hour. However, 90 is as fast as passenger trains are likely to go on lines shared with freight traffic. Faster trains will require their own right of way.

The federally designated high-speed corridors would serve 85% of Americans, he said, and the $8 billion in federal high-speed rail investment was allotted where it would create jobs and make political capital. The improvements envisioned for Virginia would help business, said Plaugher: companies can save money by sending employees on Amtrak instead of paying for car mileage. He also mentioned that a passenger train serving Norfolk directly is likely within three years.


Meredith Richards, President of Virginians for High Speed Rail and Founder of Charlottesville Rail, spoke on Amtrak's new train service to Lynchburg. Ridership growth has been strongest in Lynchburg, where more than twice as many people are now using Amtrak. Growth in Charlottesville has been strong too. Charlottesville leads Virginia in the number of passengers per scheduled train (other stations have more riders but also have more trains).

How did the cities and towns of the Piedmont convince the Commonwealth of Virginia to fund a second Amtrak train between Washington and Lynchburg? The demand for additional service was perceived in Charlottesville, where 62% of business people surveyed said they to business in Washington, DC, and Northern Virginia, and two-thirds of those said they would use a train one to four times a month if it made the trip in two and a half hours (approximately the running time of the new train).

The initial organization pushing for more service was C'ville Rail. The group set goals, organized people, obtained nonprofit status, started fundraising, and began reaching out to the community, government, businesses, and chambers of commerce.

It was apparent that wider support was needed, so the next step was to talk to local governments on the line. The result was a regional organization—the Piedmont Rail Coalition—that held a summit in Charlottesville and learned that Virginia had requested a study of an additional Lynchburg-Washington Amtrak train. Without the study and the state rail plan, the coalition's efforts might not have succeeded, said Richards.

Amtrak favored a Lynchburg–New York train, and the coalition held a second summit to discuss the proposal and a rapid response to influence the state rail plan. Dozens of representatives attended the summits, and 22 jurisdictions signed resolutions endorsing new rail service. The state plan called for two Lynchburg round trips as part of a three-year demonstration project, with one train to be extended, when possible, to Roanoke and eventually Bristol.

The new train has exceeded revenue and ridership projections, and a lot of people ride to Northeast Corridor points north of Washington, but as the coalition predicted, the most popular destination from Charlottesville and Lynchburg has been Washington, DC.


Chris Zimmerman, Vice-Chairman of the Arlington County Board, spoke about the Arlington streetcar project. The first line planned, he said, is the minimum operable segment along Columbia Pike. The county has been working to make the road into a walkable street. Metro's blue line, he said, was originally intended to go to the Skyline development and Bailey's Crossroad in Fairfax County. Areas were zoned for high density in anticipation of this. A lot of development took place but without rail transit service. Columbia Pike has 15,000 bus riders a day—a number that a lot of light rail lines would be happy to get, said Zimmerman. The county believes that a streetcar line running in mixed traffic could attract 30,000 people a day.

As of 2010, the project is in environmental planning and preliminary engineering. It might be running in 2014, and eventually it could reach Crystal City and Potomac Yard in one direction and Bailey's Crossroad in the other. Fairfax County would like to transform Bailey's Crossroad, and Arlington plans to rebuild Columbia Pike while building the streetcar line. For a decade, the county has been planning medium-density development that would take advantage of the rail transit but preserve the existing affordable housing, mostly garden apartments. The rail line would use a standard-design streetcar.

Elections. Jim Bayley, Allan Carpenter, Jim Churchill, Steve Dunham, Bill Forster, Herbert Richwine, Dick Peacock, and Michael Testerman were unanimously reelected to the board of directors. Testerman, Churchill, Peacock, Richwine, and Carpenter agreed to continue serving in their posts as, respectively, president, executive vice president, secretary, treasurer, and assistant treasurer.