VARP home page
Virginia Association of Railway Patrons
Modern Transportation for the Virginias
---
2014 Annual Meeting Highlights
VARP held its annual meeting on March 29 in the Richmond Railroad Museum.
Presentations
Jonathan Michel and Megan Burton of the Roanoke station design team described the conceptual designs for a new Roanoke railroad station that were created in a 10-week design studio at Virginia Tech; the class was supported with professional expertise.
All the concepts were designed for environmental sustainability and to be more than a train station, recognizing that the initial service will be one morning departure and one evening arrival, which would leave the station otherwise idle most of the day. To serve as a community facility too, the designs incorporated public spaces, greenways, and connections to local public transportation, including possible future light rail.
The team looked at two sites: 10th Street and 1st Street.
The 10th Street site has room for expansion and potential to renovate the community, with a greenway extending across the tracks, an integrated plaza, and mixed-use space. The bus station would be one block away on the plaza. Elevators would connect to an underground parking garage.
An alternative 10th Street design would have a garden plaza with fountains, the bus and train stations combined, and shops and restaurants in adjacent buildings.
The 1st Street site is near the old Norfolk & Western station, which is now the O. Winston Link Museum. The station would be near the Martin Luther King bridge, with the tracks on one side and the parking garage and bus station on the other. Like the 10th Street concepts, the 1st Street concepts would have integrated public and green space and connections to local public transportation.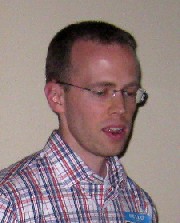 Jeremy Latimer of the Virginia Department of Rail and Public Transportation discussed rail access and Amtrak in Virginia. He said that the commonwealth hopes to restore passenger train service to Roanoke in 2017. He noted that Virginia has a $4 million credit with Amtrak because the state-sponsored trains to Lynchburg and Norfolk have brought in revenue that more than covers their expenses. The state hasn't gotten a bill yet from Amtrak for operation of all regional trains terminating in the state; Virginia was assigned financial responsibility for their operations in October. Latimer noted that Virginia's Intercity Passenger Rail and Operating Capital Fund, established in 2011, has been funded since 2013 by a 0.3% sales and use tax, with .125% dedicated to rail and transit. This fund will pay for Amtrak Virginia trains.
Asked about the 11 miles of third track to be constructed on CSX right-of-way between Powell's Creek and Arkendale in Prince William and Stafford counties, Latimer said that procurement is under way and that the work must be finished by 2017, the deadline for using federal stimulus funds. Another project is a signal upgrade on the Buckingham Branch railroad, which he said will benefit the Cardinal.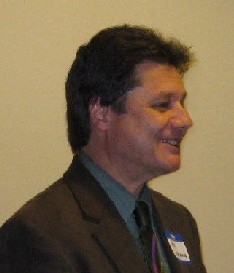 Ray Amoruso of Hampton Roads Transit said that his agency has no dedicated funding source but a large transit-dependent population. The Tide light rail line, however, is attracting people who have transportation choices and are not dependent on transit. Ridership on the line is ahead of projections, he said, and he noted that the light railway is attracting private investment in Norfolk: Fort Norfolk Plaza, the Belmont apartments, and the Tidewater Community College student center have all been constructed near light rail stations, and a new court complex and library are planned near the City Hall station.
Amoruso said that 59% of those recently surveyed in Virginia Beach want to see the light rail extended into their city. Virginia Beach chose not to participate in light rail when it was first constructed, which is why the Tide ends at the city line on Newtown Road. Besides an extension to the oceanfront, people want a line to the Navy base, the largest employer in the region. Virginia Beach wants to focus its growth, and nine of the eleven growth areas it has selected are on the likely light rail alignment. Virginia Beach has voted to study the light rail extension, and a branch to the Navy base is being studied too. Another possible branch attracting local interest is one to the airport. But if Virginia Beach decides to pursue magnetic levitation transit—a technology not currently proven in rapid transit service—there are other cities in the Hampton Roads area that want light rail and would probably get it first.
A regional transit plan unconstrained by costs suggests light rail on both the north and south sides of Hampton Roads, said Amoruso. Bus rapid transit could be built in some places as a prelude to light rail, but light rail attracts more passengers because the vehicles are bigger and roomier, making passengers feel uncrowded compared to riding on a city transit bus. The region needs to plan 50 to 100 years ahead, he said, because light rail is a long-term investment and population changes are creating more demand for public transportation.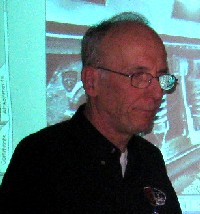 Ralph Messera of Charlotte's Metropolitan Transit Commission discussed the CATS Blue Line extension and the work of the North Carolina Rail Division. Charlotte, he said, has a long-term growth strategy conceived in the 1990s. It focuses growth on five corridors and wedges radiating from downtown. Transit expansion (mostly bus) is funded via a half-cent sales tax, although work on the Blue Line light rail extension is progressing. When the tax was established, 58% of voters supported it. In a later vote, it was 72% in favor.
Stations are planned with land use and community design in mind. Stations are connected to the community with improvements funded separately from the light rail construction. There is no maximum density in designated transit-oriented development areas, and the light rail stations have attracted much private investment nearby.
The light rail line is carrying about 15,000 daily passenger trips, and the Blue Line extension will bring the total to about 25,000. The extension will have different levels of adjacent development for urban and suburban areas and for the University of North Carolina–Charlotte.
The state's Piedmont Improvement Project is expanding rail capacity, increasing speed, replacing stations, and eliminating grade crossings on the Charlotte-Raleigh Piedmont route. The Charlotte–New York Carolinian Amtrak train has its not-very-large operating deficit funded entirely by North Carolina, and Messera said that the state would like to see Virginia contribute to the operating cost, because outside the Northeast Corridor the train also serves Alexandria, Quantico, Fredericksburg, Richmond (Staples Mill Road), and Petersburg in Virginia.
Harry Kollatz and Patrick Gregory discussed the making of their documentary film on Richmond streetcars, Richmond Had Rail. The film is still being created and features historic material about Richmond's trolley system, long since abandoned, and interviews with people who remember and rode it.
VARP business and board meetings
The members unanimously reelected the directors of the corporation: Michael Testerman, Jim Churchill, Dick Peacock, Herbert Richwine, Jim Bayley, Bill Forster, Allan Carpenter, and Steve Dunham. The board unanimously reelected Steve Dunham to be chairman and the officers to continue in their positions: President Testerman, Executive Vice President Churchill, Secretary Peacock, Treasurer Richwine, and Assistant Treasurer Carpenter.