VARP home page
A Future for Rail Passenger Service in the Virginias
The Virginia Association of Railway Patrons
Send comments to Steve Dunham, Chairman of the Board of Directors
8600 South Fork Court, Fredericksburg, VA 22407

What Rail Passenger Service in the Virginias Should Be
An attractive transportation alternative to move large numbers of people among major centers of population, employment, and recreation
Integrated with other modes of transportation so that travel using two or more modes is convenient
Affordable for frequent travelers, commuters, and families
Easy to use—comfortable, with frequent service, easily obtained tickets, and easily obtained information
Funded from a stable source at a level that enables it to compete with other government-supported modes of transport
Integrated with other interstate transportation systems to make travel to and from Virginia affordable and easy to use
Compatible with improved freight service
Compatible with development into Federal Railroad Administration Tier III high-speed (over 125 mph) passenger service
All decisions affecting rail passenger service in Virginia should take these criteria into account.
Where Rail Passenger Service in the Virginias Should Go
Virginia saw some major improvements in its rail passenger network in the 1990s, notably the commencement of Virginia Railway Express service, Metro expansion, and increased Amtrak service to Richmond and Tidewater, yet many important markets remain unserved or underserved. The new rail services in Virginia should concentrate on what passenger trains do best: providing an attractive transportation alternative to move large numbers of people among major centers of population, employment, and recreation.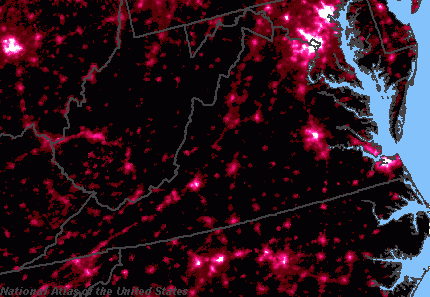 A map of Virginia and West Virginia night lights from the National Atlas of the United States shows where those centers are: concentrated: in an arc from northern Virginia through Richmond to Tidewater, with secondary concentrations through the Piedmont and the Shenandoah Valley to Roanoke and Bristol.
West Virginia's population clusters around Charleston and Beckley, with other clusters near Morgantown and Martinsburg.
Nearby population centers outside the Virginias are evident in Columbus, OH; Washington, DC; Baltimore, MD; and Raleigh, Greensboro, and Winston-Salem, NC. These represent only major areas close outside the borders of the Virginias and indicate the need for regional service to tap interstate markets. Rail passenger service in Virginia should not stop at state lines the way some existing service stops at county lines.
The Place of Virginian Rail Passenger Service in the Transport Net
The best rail passenger service will not be able to directly serve the origin and destination points of more than a minority of travelers. At the beginning or end of the trip, the typical traveler will use another mode of transportation. Therefore, to be attractive, convenient, and easy to use, rail stations must be part of the larger transport net. An example of good integration is the National Airport station on the Washington Metro, where passengers can walk (or ride a moving sidewalk) from the rail platform directly into the main terminal. Accidental integration is typified by the Fredericksburg station, where some bus routes serve the station infrequently and on schedules unrelated to train arrivals and departures. An example of no integration is the "Richmond" station on Staples Mill Road in Henrico County, where there is almost no bus service and the station is miles from downtown and from the main bus terminal and airport.

Railroad stations of the future must share terminals with other modes of transportation wherever possible. They must have good pedestrian and bicycle access and, where appropriate, ample parking as well.
Passenger Train Fares
Highways are so heavily subsidized that rail passengers, who are expected to pay 50% to 100% of the cost of their travel, often face an economic obstacle in choosing to travel by rail. This places a particular burden on low-income travelers and families. To encourage rail travel, which is environmentally and socially friendly, government subsidies should create a price structure that favors the use of public transportation rather than discourages it. This means that frequent travelers and groups would receive substantial discounts not only on commutation trips, and that economical coach service would be provided in all markets.
The Convenience of Rail Travel
At present, obtaining railroad tickets in Virginia requires research. Cash sales are not available at many stations and on many trains. Getting a paper timetable is not easy. Discovering connecting services often requires work; on-board information is particularly lacking. The Internet has made getting information and tickets easier, but the rail passenger services, particularly Amtrak, have a way to go.

Future rail passenger service in Virginia must be a part of the social fabric, with ubiquitous information and ticket sales. Intercity trains must provide enough information on board so that passengers can find out, for example, what transit line they must take at their destination.
Dedicated Funding for Virginian Rail Passenger Service
No other mode of transportation in Virginia depends on local funds for its existence the way passenger trains do. Virginia Railway Express service, which accounts for most of the passenger trains in Virginia, ends at the borders of participating counties. There are no reliable funding sources to establish and operate trains in areas that are unserved or underserved.

Passenger trains in the Virginias need a consistent source of funding to allow quality service at levels and prices that are competitive with other government-subsidized modes.
The Place of Virginian Rail Passenger Service in Interstate Transport
As a benefit to their citizens and to attract business and tourism, the Virginias need to better integrate their rail passenger service with the larger interstate transportation net of all modes. At present, for example, Virginia Railway Express passengers can connect reasonably well to Amtrak services to the north and west of Washington, but not so well to flights at National Airport or BWI because the frequency of train service often requires long layovers. If connecting rail services are not scheduled to mesh with the other mode (as in the case of rail to air), then they need to be frequent enough to minimize the transfer time. Likewise, the rail service to the south and west of Virginia does not always connect well with the rest of the limited intercity rail net. There are two daily trains between Raleigh and Charlotte, NC, for example, but one has no connection to points north (the other being a through train to New York that does serve Virginia).

The single train that provides the only service in West Virginia outside the northeast corner of the state does not even run every day.

In the future, rail passenger service in the Virginias must connect reasonably and reliably with long-distance, local, and international services. Trains that serve airports must run frequently enough to get air travelers to and from flights throughout the day, seven days a week.
Specific Suggested Improvements
Unserved and Underserved Markets
Washington-Charleston-Cincinnati-Chicago service is grossly inadequate, such that the train provides an attractive transportation alternative for a very small number of trips. The east-west service three times a week offers travelers no chance to travel by train north to Pittsburgh, Columbus, and beyond or to Southern destinations such as Atlanta and Florida. Even some cities that are nominally served by the Cardinal, such as Cincinnati, have arrivals in the middle of the night, making the train a relatively unattractive alternative. Long-distance service in West Virginia needs greatly improved frequency on this route (perhaps twice daily) and many more destinations available as connections to this one route. These possibilities include connections at Charlottesville to Charlotte, Atlanta, and Florida; at Staunton to trains down the Shenandoah Valley; and at Charlottesville to Richmond and Tidewater. Twice-daily service would connect at Washington with daytime service to more Northeast Corridor points, especially New York. (Northbound, the Cardinal does not have a reliable connection to New York at all. The train could be converted to single-deck cars and combined with the Twilight Shoreliner north of Washington for reliable service to all Northeast Corridor points.) Twice-daily service through the New River Gorge would make this area accessible as a recreation destination for many more people. Twice-daily service would also provide daytime connection to the Midwest Rail Initiative network at Cincinnati.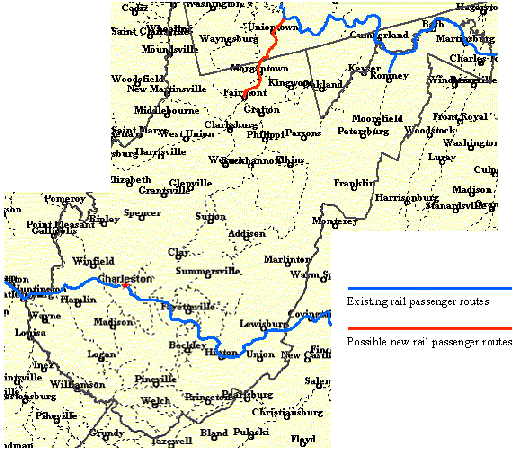 The Washington-Martinsburg-Cumberland-Pittsburgh route is underserved. Between Washington and Martinsburg, service is limited to two or three weekday rush-hour trains, plus the daily long-distance Capitol Ltd. between Washington and Chicago. These trains do not allow weekend day trips between West Virginia and Washington, and weekday trips require a very early departure. Local service between Washington and Martinsburg should be augmented by two round trips using the same equipment and crews—for example, with one morning rush-hour train running back to Martinsburg and making a late-morning trip into Washington, and an afternoon rush-hour train returning to Washington for an evening departure. On weekends, two or three round trips with one set of equipment would allow day trips to Washington, Harpers Ferry, and Martinsburg in either direction. The through service to Chicago serves Pittsburgh at awkward hours. A day train to Pittsburgh (and possibly beyond as part of the national network or in cooperation with Ohio and Pennsylvania) would greatly increase the number of destinations to which West Virginians could conveniently travel by train and would make this area of West Virginia easier to reach for visitors from out of state. Weekend stops at Green Spring, WV, by the Capitol Ltd. and the daytime train would facilitate tourism on the Potomac River Eagle train.
Fairmont-Morgantown-Pittsburgh regional service, perhaps in cooperation with Pennsylvania, is a possibility for increasing the mobility of West Virginians in that part of the state. It would serve the 21,000 students at the University of West Virginia in Morgantown and connect at Connellsville, PA, with trains to and from Washington, and at Pittsburgh with trains east and west. Even with the relatively low speeds on this route, two daily round trips should be possible with one set of equipment.
Tidewater has grown to be a center of gravity for Virginia. Of the eight cities in Virginia with population over 100,000, six (Virginia Beach, Norfolk, Chesapeake, Newport News, Hampton, and Portsmouth) are in the Tidewater area. Virginia Beach is by far the largest city in Virginia. Yet this populous area, with major employment and recreation areas, is served by only two pairs of passenger trains on the north side of Hampton Roads and none at all on the south side.
Both sides of Hampton Roads are candidates for frequent intercity, local, and even long-distance service. Although in the 1970s Amtrak ran a lightly patronized train between Newport News and Chicago, the area's population has grown about 60% since 1970, and Virginia Beach sections of the Cardinal, Crescent, and a Florida train might have good ridership. These might complement corridor trains to New York and local trains to provide hourly service between Richmond and Hampton and between Richmond and Virginia Beach.
Furthermore, a crossing of Hampton Roads for intercity rail would greatly increase transportation choices in the area and throughout the state. It would be attractive not only for long-distance travel, but for short hops like Virginia Beach to Williamsburg or Richmond to Norfolk. It also would serve a diverse traffic base: business, tourists, military, and students. This would not preclude additional service to the South, such as restoration of the old Tidewater connection at Raleigh for Florida and Atlanta.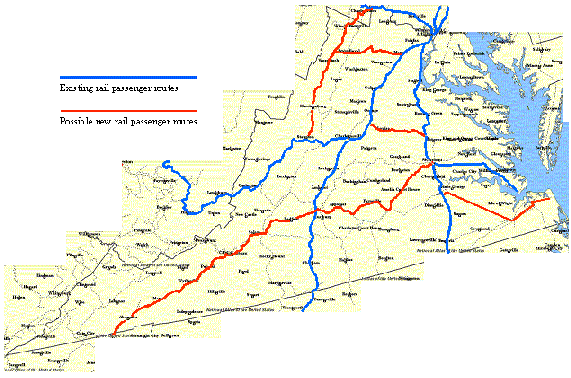 With hourly service (or at least much more frequent service than exists today), many passengers should be attracted to trains that stop directly at the Pottery Factory and Busch Gardens.
New York–Washington–Lynchburg–Charlotte–Columbia–Florida is a route that Amtrak has mentioned as a candidate. Because the Washington-Lynchburg segment has minimal service, additional frequency on this route would be welcome for Virginia. It would not only provide direct service to Columbia, Charleston, Savannah and Florida from Charlottesville and Lynchburg, but provide connections to those places from the Cardinal route and the TransDominion Express route.
This service, plus a complementary frequency on the Crescent route, along with the TransDominion Express, would add up to four daily trains each way between Washington and Lynchburg. Two daily trains on the Cardinal route would provide additional frequencies between Washington and Charlottesville. Even more trains—to provide hourly service, if the market exists for it—might be added between Washington and Charlottesville or Lynchburg, possibly as extensions of commuter train schedules on the VRE Manassas line. The twice-daily TransDominion Express from Bristol to Richmond and Washington would provide much-needed mobility for currently unserved cities in southwestern Virginia. With cooperation from the state of Tennessee, this route could restore intercity train service to Knoxville, Chattanooga, and perhaps Nashville, connecting them to Virginia and the Northeast. At Lynchburg and Richmond, connections to other destinations (Charlotte, Atlanta, Florida, Tidewater) would be important.
The Shenandoah Valley is a major travel destination as well as an originating travel market. The Shenandoah Rail Initiative proposes to bring tourist-oriented rail service back to the Valley to provide a car-free means of visiting the historic and recreational sites. To enable passengers to visit more than one place per day, this would require several round trips. It would also be desirable for the service to connect with other routes at Staunton, VA, and Washington, DC. Two daily round trips connecting the Valley with the Northeast Corridor at Washington—via Manassas or Harpers Ferry—would encourage day trips and long-distance travel in either direction.
Another Valley connection that would have low ridership on its own but could be an important feeder and connector line would be Staunton-Charlottesville-Richmond. It would connect the Shenandoah Valley and the Cardinal route to the Crescent route, the TransDominion Express, Florida trains, and Tidewater lines. Manassas line suburban service is adequate on weekdays except that there is no late evening service out of Washington, and rush-hour trains could operate farther, to Haymarket, Bealeton, or beyond. The line should have weekend service; the two daily trains between Washington and the Shenandoah Valley, if operated via Manassas, could fill this role, along with the TransDominion Express.
The Washington-Fredericksburg line has adequate rush-hour service, except that the express (Amtrak) trains serve the major intercity stops, which are not identical to the major commuting stops. Express commuter service should stop at Fredericksburg, Leeland Road, Woodbridge, Alexandria, Crystal City, L'Enfant Plaza, and Union Station, skipping all other stops. Furthermore, once the service is freed from its county boundaries, it should be extended southward to a park-and ride facility in Spotsylvania or Caroline County.
Weekend service on this line is provided in part by Amtrak, but some stations have no service at all, and other important stops have too little—Woodbridge, for example, on Saturdays has only one p.m. southbound train, departing Union Station at 7:50 p.m. Local weekend service on this line is needed. The Washington-Richmond line is being incrementally upgraded to allow high-speed service. The change of stations to Main Street in Richmond from Staples Mill Road in Henrico County will make Richmond much more accessible by rail as a destination. Extended Northeast Corridor service to both sides of Hampton Roads will fill out the Washington-Richmond schedule to provide hourly service when combined with long-distance trains. Richmond suburban service should not wait until the city and its environs are hopelessly congested with traffic. Through service between the north and south sides of the city would facilitate commuting to downtown as well as suburb-to-suburb travel. A park-and-ride station, maybe at Doswell, could anchor the north end of one suburban line, with the south end in Chesterfield. Through trains that stop at the airport and Petersburg could be supplemented by local commuter service.
Intermodal Integration
National Airport is close to the mainline. Virginia Railway Express has talked about relocating the Crystal City station to a point opposite the main airport terminal. A moving walkway directly from the platforms to the Metro station and the airport terminal would make this a useful intermodal stop.
Richmond's main bus terminal is near the tracks and across the street from the Diamond baseball stadium. A railroad station at the Boulevard could serve both. The Metro Purple Line is only a concept, but it may (and should) be the next-generation Metrorail extension: a circumferential line paralleling the Capital Beltway. If it does not pass through the Franconia-Springfield station, then the VRE and Amtrak station would be better situated wherever it can serve both Blue and Purple lines, so that passengers do not have to transfer twice to reach the important circumferential loop.
Williamsburg–Newport News International Airport and Richmond International Airport are near the railroad. Once this line has hourly service, stations near the airports could be connected to the airport terminals by a shuttle bus—not an ideal arrangement, but better than no rail-airport connection.
Fare Structures
Amtrak, VRE, and any future rail passenger operators in the Virginias should offer family fares and integrated ticketing in addition to more conventional fares. Amtrak in particular prices its tickets for the business traveler, with few economical fares for intrastate or regional travel. With the exception of monthly VRE-Metro passes, neither VRE nor Amtrak offers integrated ticketing with the Washington Metrorail system, making transfers expensive, particularly for groups or families, who must pay $2.20 round trip (or more) per person for a trip that begins or ends on Metro. This drives up the cost of rail travel. The use of local transit and bus systems in combination with intercity or commuter rail should be nominal or free (as in the case of VRE tickets being honored on several bus systems). This not only would attract more fare-paying passengers, but it could reduce pressure on Amtrak to provide parking.
Convenience
Amtrak needs to do a much better job of selling tickets and providing passenger information at stations. Quantico, Fredericksburg, Ashland, Manassas, and other stations have no departure and arrival information and no convenient place to purchase Amtrak tickets. Every station, particularly those with several daily arrivals and departures, needs to be easier for passengers to use.
Amtrak trains also should be stocked with information about the connecting and local transit systems of the cities they serve. The Washington Metro Pocket Guide, for example, should be in a rack on every Amtrak train serving Washington, along with VRE and MARC rider guides.
VRE needs to implement its planned ticketing system that will allow cash sales and purchase of student tickets, senior discount tickets, and step-up tickets—all of which are hard to obtain with the present system.
Funding
The Virginias need stable funding for rail passenger transportation—funding that is enough to meet the needs of the states in the future and to redress the imbalance in transportation funding during recent decades.
Integration with other interstate transportation systems
There are numerous opportunities for integration of service, in addition to the intermodal opportunities already mentioned:
MARC-VRE run-through service from MARC lines to Alexandria and beyond and from Virginia into Maryland would multiply economical travel opportunities in the area. More joint Amtrak-VRE ticketing—for example, tickets good on both Amtrak and MARC/VRE trains between Woodbridge, VA, and BWI Airport station, MD.
Coordinated bus service at shared stations such as Woodbridge, plus more shared stations.
Compatibility with improved freight service
Unless exclusive passenger rights-of-way are purchased or built, expanded passenger service in the Virginias will need the cooperation of the freight railroads. Improvements will have to benefit both freight and passenger service, facilitating increased use of the rail mode and economic development in the areas served by improved freight and passenger lines.
Compatibility with development into Federal Railroad Administration Tier III high-speed (over 125 mph) passenger service
Although some routes, such as those serving the Shenandoah Valley, will probably support only local and regional passenger service, the mainlines serving the major cities of Virginia should be improved incrementally to allow eventual integration with a national high-speed passenger network. The line from Washington through Richmond to Raleigh has already been designated for high-speed development.