Virginia Association of Railway Patrons
Modern Transportation for the Virginias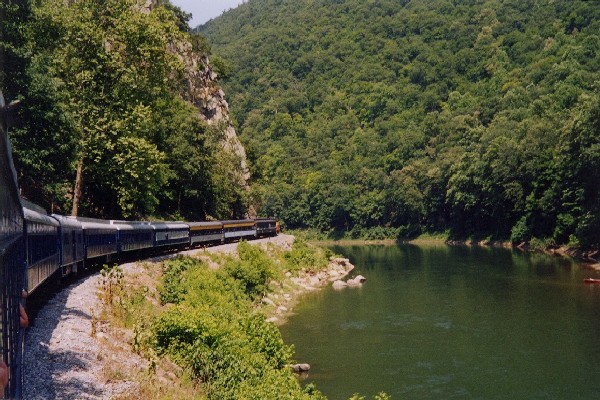 The South Branch Valley Potomac Eagle alongside the south branch of the Potomac River in West Virginia, 2003. Copyright Steve Dunham.
---
Upcoming Events
WMATA workers listening sessions

VOICE (Virginians Organized for Interfaith Community Engagement) is hosting two listening sessions with Washington Metropolitan Area Transportation Authority (WMATA) workers:

Tuesday, Aug. 8, at 7 pm, at the Metro Alexandria rail yard, 2400 Eisenhower Ave.

Tuesday, Aug. 15, at 7 pm, at St. Joseph's Catholic Church, 711 North Columbus St., Alexandria
---
Manassas Mayor honors Dick Peacock
In November 2016, Manassas Mayor Harry Parrish issued a proclamation commending "the late Richard Peacock, former Secretary of the Virginia Association of Railway Patrons" for working "indefatigably to promote passenger rail service in the Northern Virginia area."
Manassas Mayor Harry Parrish and Dan Peacock with proclamation honoring Dick Peacock
---
Cardinal Conference in Cincinnati
Amtrak, rail advocates, government officials, and business leaders met in Cincinnati Sep. 23 to discuss improvement of the Chicago–New York Cardinal—including daily service. Read more.
---
Help Bedford get passenger train service
The town of Bedford, Virginia, between Lynchburg and Roanoke, wants the Roanoke train (planned for 2017) to stop there. VARP president Mike Testerman is assisting the town with its efforts. More than 8,000 citizens have signed a petition asking for the train to stop there. You can learn more and sign the online petition at www.thebedfordstation.com.
---
Cardinal and Crescent get Business Class
Amtrak's New York–Chicago Cardinal and New York–New Orleans Crescent now have Business Class seats.
---
About our organization
Welcome to VARP's station on the World Wide Web.
The Virginia Association of Railway Patrons is a nonprofit, tax-exempt membership organization working to promote expanded rail service in Virginia and West Virginia. Donations are tax-deductible.
VARP's mission and membership information
A Future for Rail Passenger Service in the Virginias
VARP membership application form