Virginia Association of Railway Patrons
Modern Transportation for the Virginias
Promoting Amtrak with Road Signs in Virginia
From VARP's On Track newsletter, summer 2011
Dick Peacock, VARP Secretary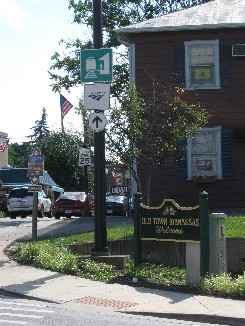 In the spring of 2011, my brother, Dan, and I encouraged Amtrak to place substantial station signs at its Manassas and Burke Centre stations like the one in Culpeper. We did this because many people do not know that Amtrak stops at Manassas and/or Burke Centre or do not know where the stations are. Our initial effort was unsuccessful, but a piece of correspondence from Amtrak revealed a gold mine. The letter revealed that Amtrak would provide free road signs to any city or state transportation department that was willing to erect them. A jurisdiction could choose among five different styles.
I tested this marketing idea in Manassas. Six highway intersections were selected. Mayor Parrish agreed to pursue the idea. By June 8, four large signs were posted in the city. These attractive signs advertise train travel at little cost to the city because the city used existing poles.
After this success, I visited Amtrak stations in Burke Centre, Alexandria, Woodbridge, Quantico, Fredericksburg, Culpeper, Charlottesville, and Lynchburg, identifying critical highway locations at each place and nearby areas.
Northern Virginia officials in Prince William and Fairfax counties and the City of Alexandria responded positively. In Prince William County, supervisor John Jenkins agreed to urge the Virginia Department of Transportation to erect signs in the Quantico area. In Fairfax County, board chairwoman Sharon Bulova obtained Amtrak signs through VDOT for the Burke Centre station. She and county staff selected critical intersections. Jim Churchill and I wrote a letter to Mayor Euille of Alexandria. A city official has agreed to post signs at six or seven locations.
I also sent letters to political leaders in the greater Fredericksburg area—members of the boards of supervisors in Stafford and Spotsylvania counties and a city council member in Fredericksburg—on behalf of riders who wish to use the Quantico and Fredericksburg stations. The political leaders sit on the VRE operations board and represent these jurisdictions. Steve Dunham of Spotsylvania helped me identify critical highway intersections in this region.
I also sent letters to political leaders in Central Virginia on behalf of riders who might use the Culpeper, Charlottesville, or Lynchburg stations. Communications were sent to either the chairman of the county board of supervisors or the city mayor. The Town of Culpeper and Culpeper County were contacted about the station in downtown Culpeper. Albermarle County and the City of the Charlottesville were contacted about the station in downtown Charlottesville. Amherst and Campbell counties and the City of Lynchburg were contacted about the station in Lynchburg.
My visit to Lynchburg turned out to be a delightful surprise. This city has a real vision for rail. It has already put up large signs at the most important intersections. Do well-placed travel signs really boost ridership? The station master told me that the parking lot frequently overflows.